Heating / Cooling
---
Heat and cool smartly

Simple steps like cleaning air filters regularly and having your heating and cooling equipment tuned annually by a licensed contractor can save energy and increase comfort at home, and at the same time reduce greenhouse gas emissions. When it's time to replace your old equipment, choose a high efficiency model, and make sure it is properly sized and installed.
Information from http://www.epa.gov/climatechange/wycd/home.html
---
Setback thermostats
Programmable thermostats automatically adjust your home's temperature settings, allowing you to save energy while you're away or sleeping.
They:
are more convenient and accurate than manual thermostats and improve your home's comfort
contain no mercury
save energy and save money on utility bills — when used properly, about $150/year
are better for the environment, since using less energy helps reduce greenhouse gas emissions associated with energy production
Programmable thermostats earn the ENERGY STAR by meeting strict energy efficiency guidelines set by the government. These units save energy by offering 4 convenient, pre-programmed temperature settings — settings that try to anticipate when it's convenient for you to scale back on heating or cooling.
If you are like many homeowners and work outside the home during the day and have a different schedule on the weekend, a programmable thermostat can offer many benefits, and the return on your investment is usually within 1 year.
On the other hand, if you are home throughout the day, seven days a week, then a programmable thermostat will offer more limited benefits.
Information from http://www.energystar.gov
---
Turn heat down AC up
Determine how turning your heat down will help
---
Adding Insulation
Insulation keeps your home warm in the winter and cool in the summer. There are several common types of insulation — fiberglass (in both batt and blown forms), cellulose, rigid foam board, and spray foam. Reflective insulation (or radiant barrier) is another insulating product which can help save energy in hot, sunny climates.
When correctly installed with air sealing, each type of insulation can deliver comfort and lower energy bills during the hottest and coldest times of the year.
Insulation performance is measured by R-value — its ability to resist heat flow. Higher R-values mean more insulating power. Different R-values are recommended for walls, attics, basements and crawlspaces, depending on your area of the country. Insulation works best when air is not moving through or around it. So it is very important to seal air leaks before installing insulation to ensure that you get the best performance from the insulation.
To get the biggest savings, the easiest place to add insulation is usually in the attic. A quick way to see if you need more insulation is to look across your uncovered attic floor. If your insulation is level with or below the attic floor joists, you probably need to add more insulation. The recommended insulation level for most attics is R-38 (or about 12–15 inches, depending on the insulation type). In the coldest climates, insulating up to R-49 is recommended.
From http://www.energystar.gov/index.cfm?c=home_sealing.hm_improvement_sealing
---
Sealing Leaks
Weather-strip and insulate your attic hatch or door to prevent warm air from escaping out the top of your house.
Seal holes in the attic that lead down into the house, such as open wall tops and duct, plumbing, or electrical runs. Any hole that leads from a basement or crawlspace to an attic is a big energy waster. Cover and seal them with spray foam and rigid foam board if necessary.
Seal holes with caulk or spray foam where pipes, wires, and vents enter or exit your home through walls. Be sure to check behind and under sinks!
Caulk window frames and door frames inside the home with clear or color matched caulk to reduce drafts. Use long-lasting exterior caulk outside the home where a window or door frame meets brick, wood, or siding.
Weather-strip doors and windows that do not seal tightly. Use foam gaskets around electrical outlets (under the plates) to reduce drafts.
There are many more steps either you or a contractor could take to improve the warmth and comfort of your home through air sealing and insulating. For more ideas on how to seal and insulate right, consult EPA's Home Sealing Do-it-yourself guide
From http://www.energystar.gov/index.cfm?c=heat_cool.pr_winter
Many air leaks and drafts are easy to find because they are easy to feel — like those around windows and doors. But holes hidden in attics, basements, and crawlspaces are usually bigger problems. Sealing these leaks with caulk, spray foam, or weather stripping will have a great impact on improving your comfort and reducing utility bills.
Homeowners are often concerned about sealing their house too tightly; however, this is very unlikely in most older homes. A certain amount of fresh air is needed for good indoor air quality and there are specifications that set the minimum amount of fresh air needed for a house. If you are concerned about how tight your home is, hire a contractor, such as a Home Energy Rater, who can use diagnostic tools to measure your home's actual leakage. If your home is too tight, a fresh air ventilation system may be recommended.
After any home sealing project, have a heating and cooling technician check to make sure that your combustion appliances (gas- or oil-fired furnace, water heater, and dryer) are venting properly. For additional information on Indoor Air Quality (IAQ) issues related to homes, such as combustion safety, visit EPA's Indoor Air Quality Web site.
From http://www.energystar.gov/index.cfm?c=home_sealing.hm_improvement_sealing
---
Energy Efficient windows
Installing ENERGY STAR qualified windows lowers energy bills and saves you money over single-pane and even new double-paned, clear-glass windows.
For a typical home, choose ENERGY STAR and save:
$125–$450 a year when replacing single-pane windows
$25–$110 a year over double-paned, clear glass replacement windows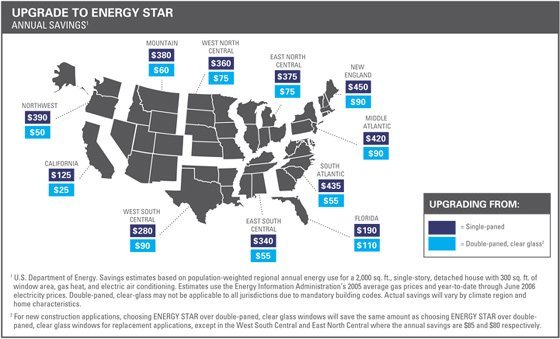 From http://www.energystar.gov/index.cfm?c=windows_doors.pr_savemoney
Want more from your windows?
Ask for ENERGY STAR.
ENERGY STAR-qualified windows, doors, and skylights save you energy and money, increase the comfort of your home, and protect your valuable possessions from sun damage. They are also better for the environment because lowering your energy use means less air pollution from power plants.

From http://www.energystar.gov/index.cfm?c=windows_doors.pr_windows
---
Solar Screens
Control direct sun through windows depending on the season and local climate. During cooling season, block direct heat gain from the sun shining through glass on the east and especially west sides of the facility. Depending on your facility, options such as "solar screens," "solar films," awnings, and vegetation can help. Over time, trees can attractively shade the facility, and help clean the air. Interior curtains or drapes can help, but it's best to prevent the summer heat from getting past the glass and inside. During heating season, with the sun low in the South, unobstructed southern windows can contribute solar heat gain during the day.
From http://www.energystar.gov/index.cfm?c=small_business.sb_simple_savers
---
Fans
Use fans. Comfort is a function of temperature, humidity, and air movement. Moving air can make a somewhat higher temperature and/or humidity feel comfortable. Fans can help delay or reduce the need for air conditioning, and a temperature setting of only 3 to 5 degrees higher can feel as comfortable with fans. Each degree of higher temperature can save about 3% on cooling costs. When the temperature outside is more comfortable than inside, a "box fan" in the window, or large "whole facility" fan in the attic can push air out of the facility and pull in comfortable outside air. Fans can improve comfort and save energy year round.
From http://www.energystar.gov/index.cfm?c=small_business.sb_simple_savers
---
In the summer, use the ceiling fan in the counter-clockwise direction. While standing directly under the ceiling fan you should feel a cool breeze. The airflow produced creates a wind-chill effect, making you "feel" cooler. In the winter, reverse the motor and operate the ceiling fan at low speed in the clockwise direction. This produces a gentle updraft, which forces warm air near the ceiling down into the occupied space. Remember to adjust your thermostat when using your ceiling fan — additional energy and dollar savings could be realized with this simple step!
From http://www.energystar.gov/index.cfm?c=ceiling_fans.pr_ceiling_fans_usage
---
Heavy or insulating shades and drapes drawn over the windows will keep heat inside
---
Geothermal Heat Pumps

Geothermal heat pumps are similar to ordinary heat pumps, but use the ground instead of outside air to provide heating, air conditioning and, in most cases, hot water. Because they use the earth's natural heat, they are among the most efficient and comfortable heating and cooling technologies currently available.
Earning the ENERGY STAR means products meet strict energy efficiency guidelines set by the US Environmental Protection Agency and the Department of Energy.
ENERGY STAR qualified geothermal heat pumps use about 30% less energy than a standard heat pump.
They are quieter than conventional systems.
Remember, saving energy prevents pollution. By choosing ENERGY STAR and taking steps to optimize the performance of your heating and cooling equipment, you are helping to prevent global warming and promoting cleaner air while enhancing the comfort of your home.
You may also be interested to know:
Though these products can be more expensive to purchase up front, the cost difference will be paid back over time through lower energy bills.
When buying new equipment, sizing and installation are as important as product quality.
You can get better heating and cooling performance at home with ENERGY STAR home sealing (insulation and air sealing) and duct sealing.
Consider regular maintenance to maintain your heating and cooling system performance.
From http://www.energystar.gov/index.cfm?c=geo_heat.pr_geo_heat_pumps
---